The Double Life: a Rainer Maria retrospective
When I was in Washington, DC last week, I saw NYC indie rock trio Rainer Maria kick off their East coast tour at the Black Cat. It was a great show, full of good music and energy.
Rainer Maria have been banging around on their guitars (and drums) since the mid-1990s, making angry, loud, emo(tional) rock music that, personally speaking, gives me the chills (and I mean that in a good way). The band is gearing up to release a new album this fall on Polyvinyl Records; the as-yet-untitled album is their fifth full-length (not counting last year's live
Anyone In Love with You
).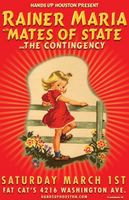 This
is a sampler of my favorite Rainer Maria songs, for the uninitiated. If you like this stuff and are looking for a taste of the new album, the band is offering "Burn," a song from the new album, as a free stream via
www.rainermaria.com
. Enjoy.