Falsetto Favorites...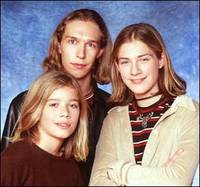 ...or is it Eunuchs Unite? Either way, you're sure to enjoy
this playlist
of songs featuring male singers hitting the highest of high notes. Includes 39 of the most glass-shattering songs ever committed to tape, from Christopher Cross and Air Supply to Prince, Michael Jackson and The Darkness.
On a related note, am I the only person who thought that Ferris Bueller was singing along with a
woman
when he sang "Danke Schoen"?