The Apples in Stereo: an appreciation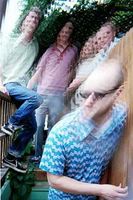 The Apples in Stereo are one of Denver's greatest exports, in my opinion. The group started off as simply The Apples in the mid-1990s, part of a small but vibrant pop scene in Denver that also included neighbors (and good friends) The Christines.
Before long, The Apples had changed their name (under legal duress) to The Apples in Stereo, been discovered by SpinART Records, become Japanese popstars, and even penned a tune for the official Powerpuff Girls soundtrack. You can't make this stuff up.
Anyway -
this
is a collection of some of my favorite songs by the now-defunct band. Enjoy the music.